Pipeline Oil Spill Contingency Planning and Reclamation
Lessons learned from oil spills along the IPL (Enbridge) 30" Line 9 in Ontario and Quebec and from Line 6B of the Enbridge pipeline, in Michigan as well as the many oil spills that occur on a regular basis in Nigeria, in the Niger Delta, underscore the need for preparation for the worst - major oil spills into sensitive aquatic environments including mineral springs. These oil spills can have a significant negative impact, as the 20,000+ barrel spill near Kalamazoo, Michigan on July 25, 2010, from an old (circa 1969) 30" pipeline illustrates. The estimated clean-up bill to date has now exceeded $1 Billion and was exacerbated by the nature of the heavy bitumen being pumped with diluents since the "dilbit" sinks in water.
An 18,000 barrel crude oil spill from the then recently installed Line 9, in June 1978, also demonstrates that new pipelines, only two years old, can also rupture, causing release onto agricultural land and into waterways, leading to sensitive fishery or potable water sources, unless quick action is taken. This typically results from damage to the pipeline during installation, which isn't caught during pipeline hydrostatic testing, or subsequent pigging. Third party damage through unauthorized excavation is an ongoing concern. On the Baku-Tblisi-Ceyhan Pipeline, in Georgia, a major spill and fire at a valve site, two years into operations was attributed to a PKK terrorist attack, so security, including cyber-security is an increasing concern.
When operating a large diameter, thin walled pipeline, with a throughput of 300-350 thousand barrels per day, at high pressure, weak spots, caused by external damage or corrosion, can result in oil spewing into the environment, as these Enbridge incidents illustrate. These are infrequent events, however, with the rule of thumb in North America being that leaks will happen about once per thousand kms of 30" pipeline, per year. Recent records for NEB regulated pipelines from a CBC investigation (www.cbc.ca/news/pipeline-safety-incident-rate-doubled-in-past-decade) confirms this incident rate and from an analysis of National Energy Board gathered data points to a three-fold increase in hydrocarbon leaks from 2000 to 2012. The CBC has provided an interactive map illustrating the locations of the spills with details on the date, volumes and causes (www.cbc.ca/news2/interactives/pipeline-incidents/)
In 2011 the NEB documented some 94 incidents for federally regulated oil and gas pipelines, so improvements need to be made for these aging pipelines, like Line 9 which was installed in 1976 under less than ideal conditions as a reaction to the 1974 Arab oil embargo. Where oil theft from oil pipelines is rampant, which is the case in the Niger Delta, oil spills are a daily occurrence, so there are oil spill lessons learned available, albeit from a tropical environment where degradation of leaked crude is accelerated year round, due to high temperatures conducive to dispersion and biodegradation.
The premise that newly installed pipelines built to CSA Z662-15 standards are safer and present fewer risks than old pipelines seems obvious (see Triox oil spill risk assessment in the Energy East Application to the NEB). The replacement of pipeline "sunset" systems like Enbrirdge's Line 3 across the Prairies, which began back in 1979, following major spills, due to longitudinal seam splitting, has been approved by the NEB and is scheduled to take place by 2020 (http://www.neb-one.gc.ca/pplctnflng/mjrpp/ln3rplcmnt/index-eng.html?pedisable=true). The same should perhaps apply to Line 9 and other aging oil pipelines like TNPL which traverses Ontario into Quebec. This would reduce the risk of a Kalamazoo-like spill scenario into sensitive watercourses like the Ottawa and St. Lawrence rivers, which provide critical water supplies to major cities.
The United Nations Environment Programme (UNEP) carried out a detailed environmental and health assessment of the affected area in Oganiland, Rivers State, Nigeria and has detailed many of the impacts and mitigation measures needed to deal with this ongoing calamity (http://www.unep.org/Nigeria):
Aquatic Environment
The UNEP investigation found that the surface water throughout the creeks contains hydrocarbons:
Fish tend to leave polluted areas in search of cleaner water, and fishermen must therefore also move to less contaminated areas in search of fish. When encountered in known polluted areas, fishermen reported that they were going to fishing grounds further upstream or downstream:
Despite community concerns about the quality of fish, the results show that the accumulation of hydrocarbons in fish is not a serious health issue in Ogoniland but that the fisheries sector is suffering due to the destruction of fish habitat in the mangroves and highly persistent contamination of many of the creeks, making them unsuitable for fishing.
The wetlands around Ogoniland are highly degraded and facing disintegration. The study concludes that while it is technically feasible to restore effective ecosystem functioning of the wetlands, this will only be possible if technical and political initiatives are undertaken.
Public Health
The Ogoni community is exposed to petroleum hydrocarbons in outdoor air and drinking water, sometimes at elevated concentrations. They are also exposed through dermal contacts from contaminated soil, sediments and surface water.
Since average life expectancy in Nigeria is less than 50 years, it is a fair assumption that most members of the current Ogoniland community have lived with chronic oil pollution throughout their lives."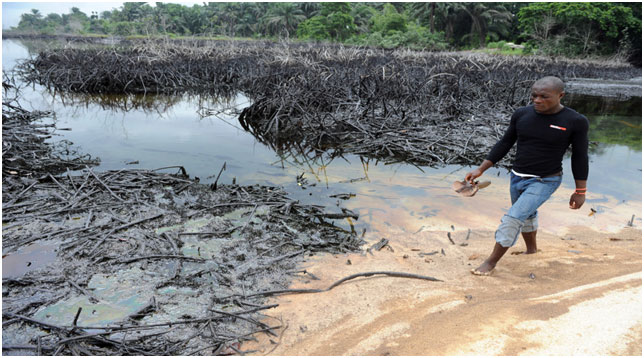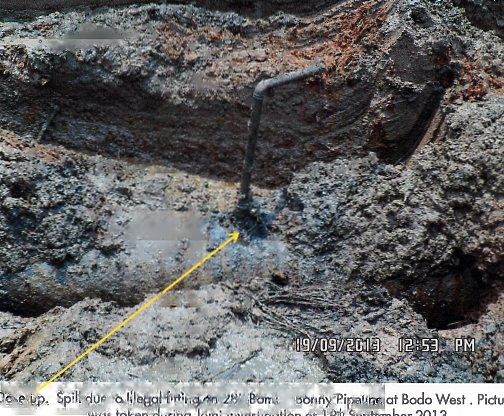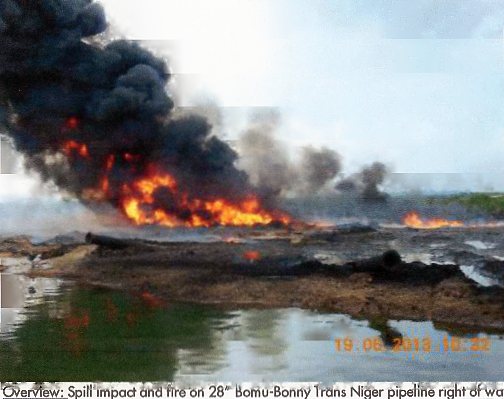 Crude oil spills from pipelines are common in the Niger Delta due to both operational problems related to corrosion, to sabotage and to bunkering involving hot tapping of pipelines to pump stolen oil into everything from barrels, to boats to railway cars. Photos above and below show Niger Delta spills documented by Nigerian Joint Investigation Team for both bunkering and operational related oil spills.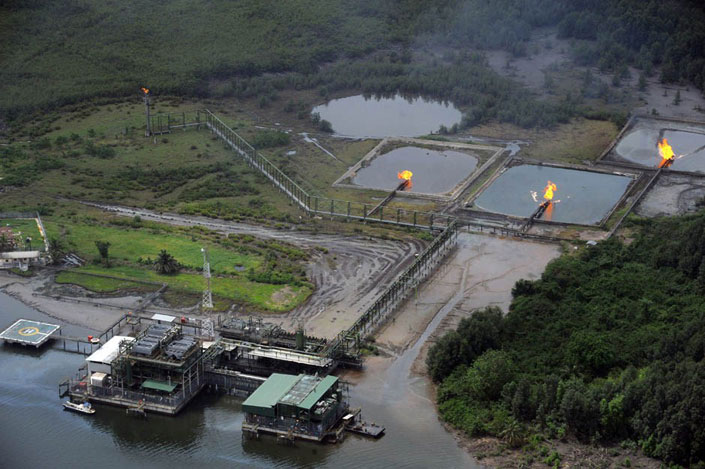 As the aerial photos below illustrate reclamation of a spill site can be achieved over time given quick emergency response, clean-up and appropriate reclamation methods for the affected land and waterways including intense "landfarming" using fertilizers and cultivation. In the case of the Lancaster spill, as part of the follow up monitoring, Canada Centre for Remote Sensing carried out colour infrared and colour aerial photography in 1979, the year following the spill. As illustrated, the fall rye cover crop grew on all but the most severely affected areas of this 6 acre field. Subsequent biodegradation of the crude oil progressed well due to the addition of soil amendments, which corrected the elevated carbon to nitrogen ratio thus promoting microbial growth and biodegradation of the crude oil. Once the oil content was reduced to less than 5000 mg/kg in the soil, the smothering effect of oil on roots and thus, water and nutrient uptake, was limited. However, had the oil flowed into the aquatic environment of Lake St. Francis, and the St. Lawrence Seaway downstream, the scope of impacts would have become much greater and more difficult to control. This is the case in Nigeria, where many spills in the Niger Delta swamp have affected the tidal mangrove swamp and the many rivers leading to the Atlantic shoreline. The impacts are extensive with crustaceans and fish adversely affected, with quantification difficult.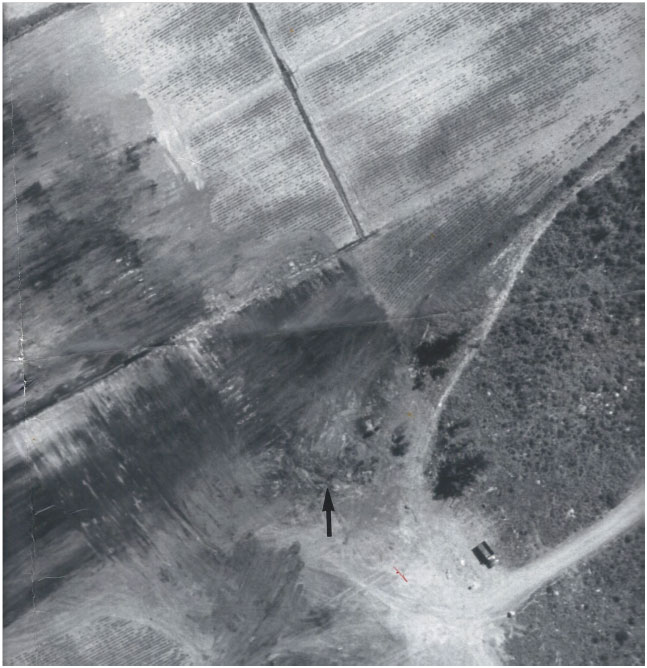 Arrow shows oil spill repair site on 30" Line 9 following joint replacement and oil spill cleanup (MNR aerial photo from June 1978). Below, O indicates the heavily oiled area to the left of the arrow, above, where manure had been spread along with adequate nitrogen and phosphorus commercial fertilizer to promote biodegradation of the crude with correction of soil C:N.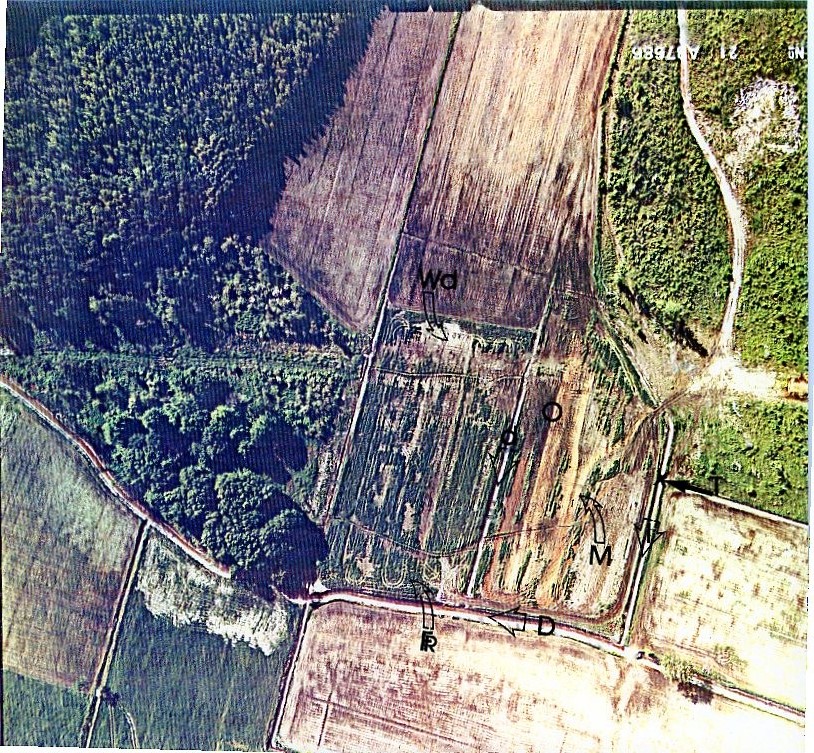 Lancaster Oil Spill Site one year after the oil spill with fall rye cover crop shown growing in most areas. D indicates oil/water drainage near spill site down gradient from pipeline. CCRS aerial photo No. 21 A87686 June 1, 1979. Wd= water damage; D= flow direction in drain.
Lancaster spill site December 11, 2015, thirty-seven years after initial reclamation. An integrity dig up at the spill site in 2014 resulted in reseeding of the hay field (green area) with the balance of the field producing normally, according to the farmer. Spill monitoring is still ongoing, with 5 groundwater monitoring wells on site, including the one in the foreground located where the pipeline ruptured. This illustrates the need for a long term commitment to site reclamation.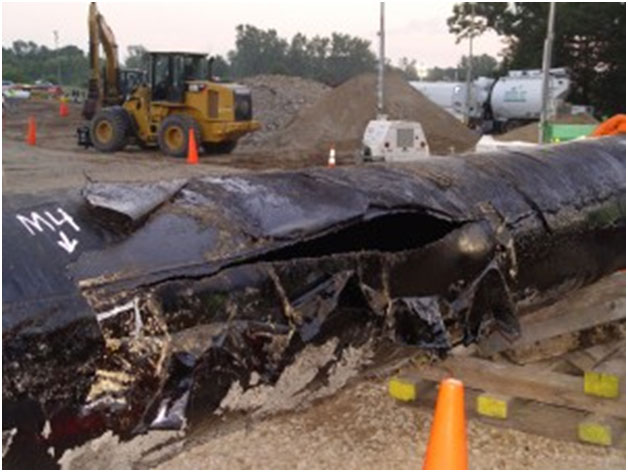 Enbridge's Line 6B 30 inch diameter oil pipeline following 20,000 barrel spill in 2010 showing longitudinal pipe failure attributed to stress corrosion cracking. Source: US National Transportation Safety Board
The Kalamazoo spill also provides a local inland waterway, worst case scenario for an oil pipeline rupture, since the spilled diluted bitumen flowed down a tributary into a major river and sank in the river, since the dilbit was heavier than water. This is peculiar to this type of oil product in that spilled crude normally floats on the surface, or dissipates into the water surface and spreads laterally as sheen, with light ends evaporating. Therefore the impacts associated with spills in Nigeria and the Kalamazoo spill are indicative of effects that would be expected for a major spill into the aquatic environment for light and heavy crude oils, respectively. What then are the impacts on the aquatic environment and what are the remediation measures needed to restore the environment given that the dilbit sinks and the diluents evaporates?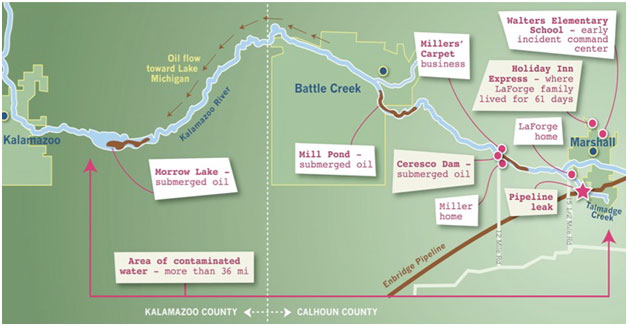 Source: Inside Climate News
Clearly the answer is prevention, or in the subject Kalamazoo case, manual collection of surface oil and dredging of oil deposited on the river bottom and deep pockets to cover the environmental liability. The high reclamation cost to date is testimonial to the difficulties in collecting dilbit and reclaiming the affected land and sensitive aquatic environment.

TCPLs Keystone XL, Enbridge Line 3 Replacement and Trans Mountain twinning projects
The Kalamazoo oil spill is relevant to upcoming projects planned by TCPL, Enbridge and Trans Mountain. It begs the question: what measures should be implemented to prevent this type of major spill from re-occurring, given the sensitive aquatic and terrestrial environments traversed by these respective pipeline projects? For an answer to this detailed studies of local conditions, including mapping of environmental sensitivities and routing to avoid sensitive aquifers such as those in B.C. along the Trans Mountain route, and in Nebraska through the sandy soils of the Ogallala aquifer and in Ontario for the many cold water trout streams running directly into the Great Lakes-St. Lawrence Seaway system. This is most relevant for detailed routing across B.C. for the approved Trans Mountain oil pipeline to avoid the Sardis-Vedder Aquifer relied upon by the City of Chilliwack as well as the 'Hope Springs' aquifer of Nestlé Canada Waters, near Hope, B.C.<![endif]--> Avoidance is the best mitigation and regardless of proximity to environmental sensitivities special pipeline protection measures are needed. Lessons learned from the successful construction and operation of the BTC oil pipeline through the Borjomi Gorge, a mineral spring water aquifer in Georgia, are instructive. This includes state-of-the-art security and control points for oil spill collection which need to be clearly established and sufficient resources allocated to allow quick emergency response by the pipeline company and EMS personnel, based on identified risks to man and nature. This includes a local insight into how dilbit will act if it is released to the land and into watercourses, since its fate relates to sediment load in the receiving waters and infiltration rate in the soil matrix. Thus, site specific emergency response plans are needed and must be tailored to throughput products and local environmental factors, including seasonal variations and extreme events such as flooding, seismicity etc.
Feel free to contact the writer who has pipeline environmental management expertise gained worldwide across Turkey, Africa and Canada. This has been focused, for the most part, on the Line 9 Sarnia to Montreal pipeline corridor, from construction through to operations, including oil spill cleanup and reclamation.